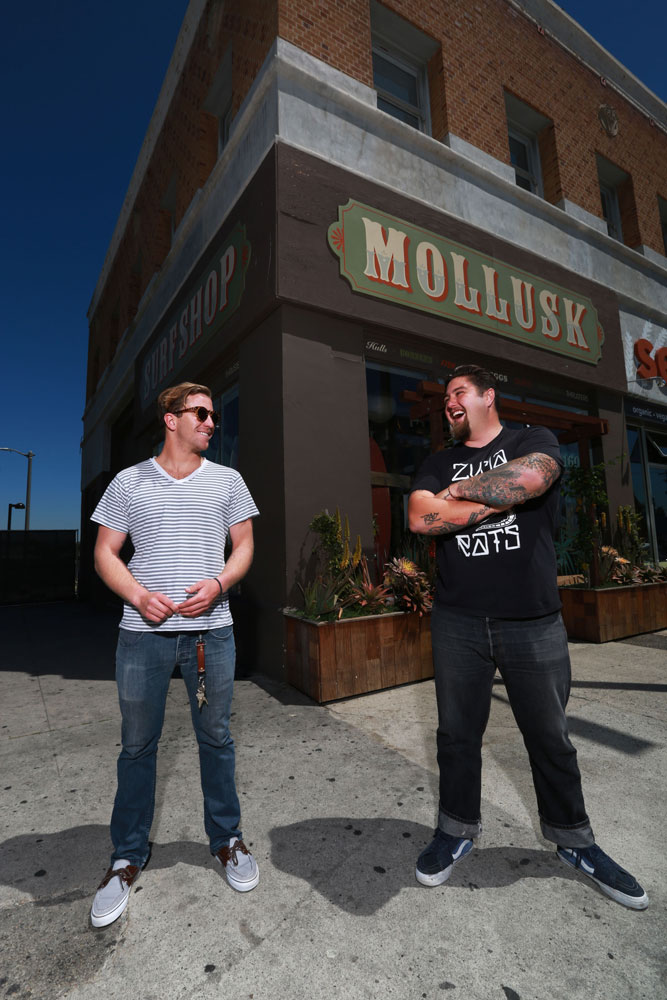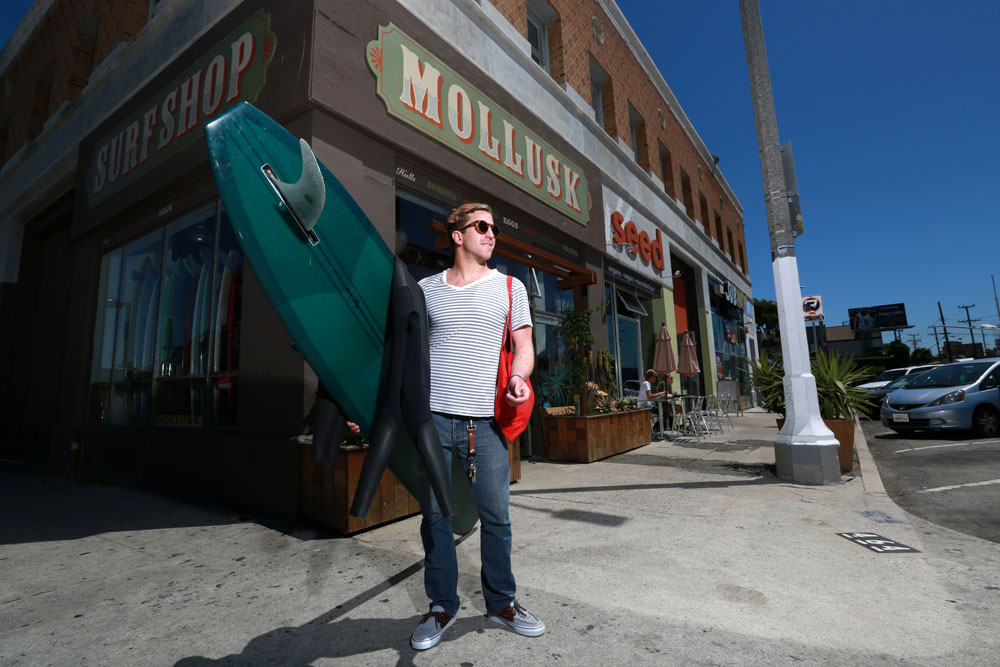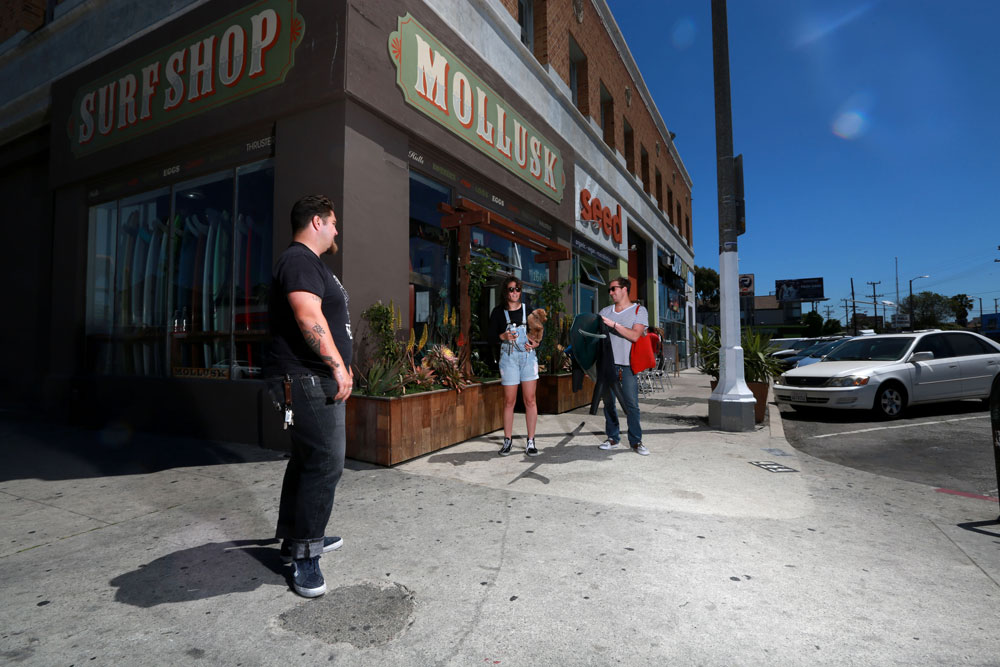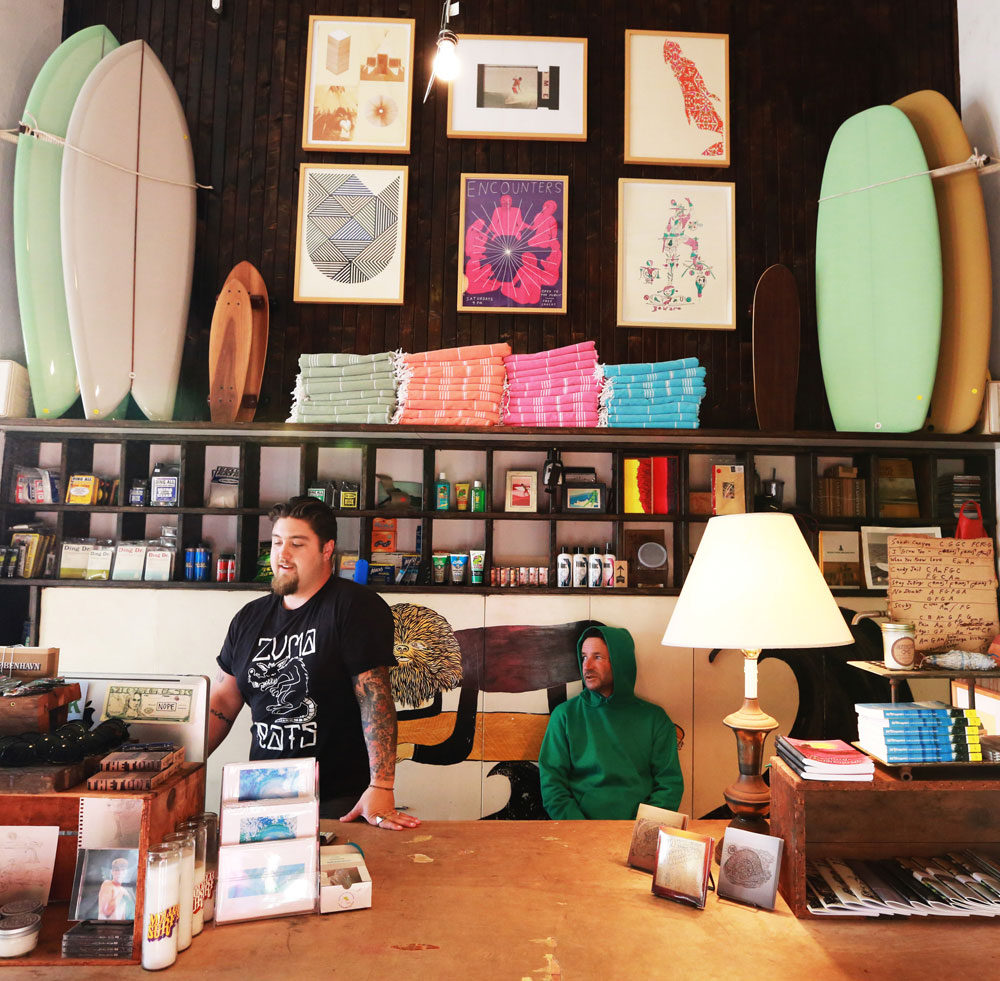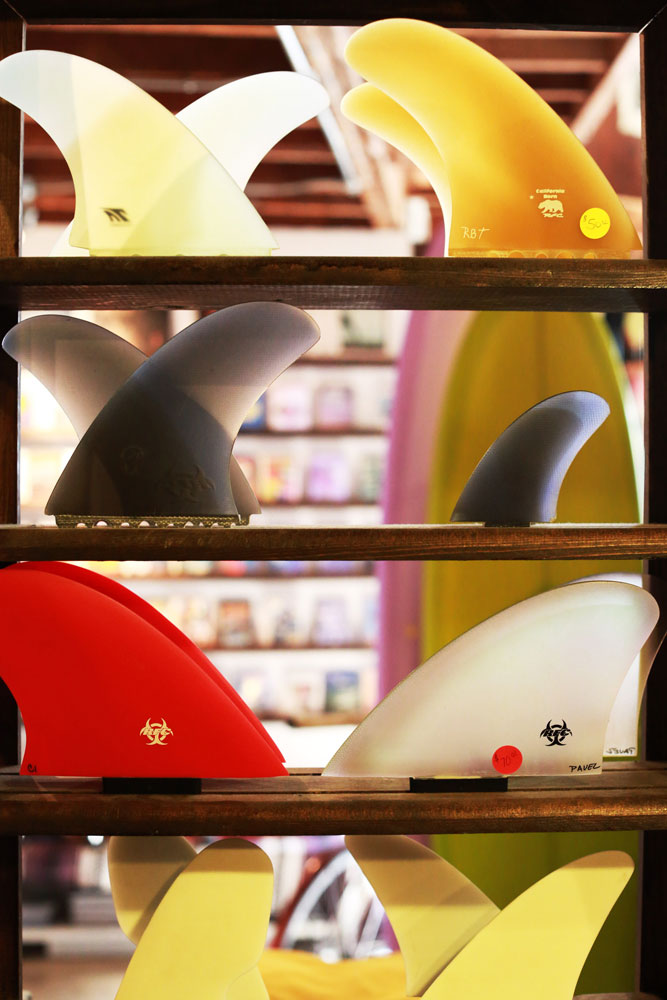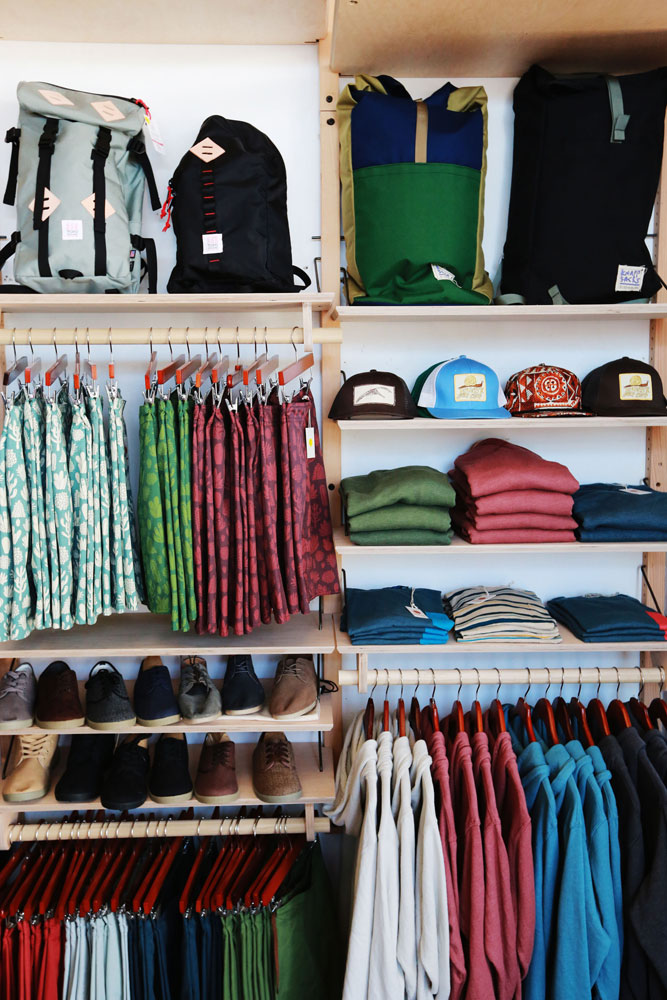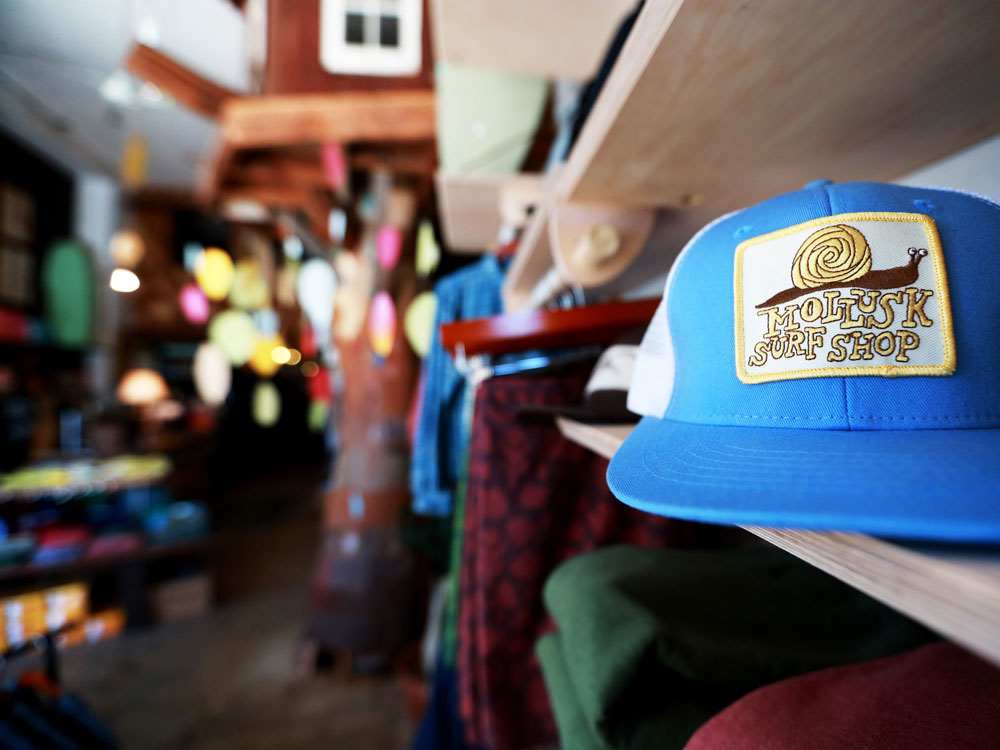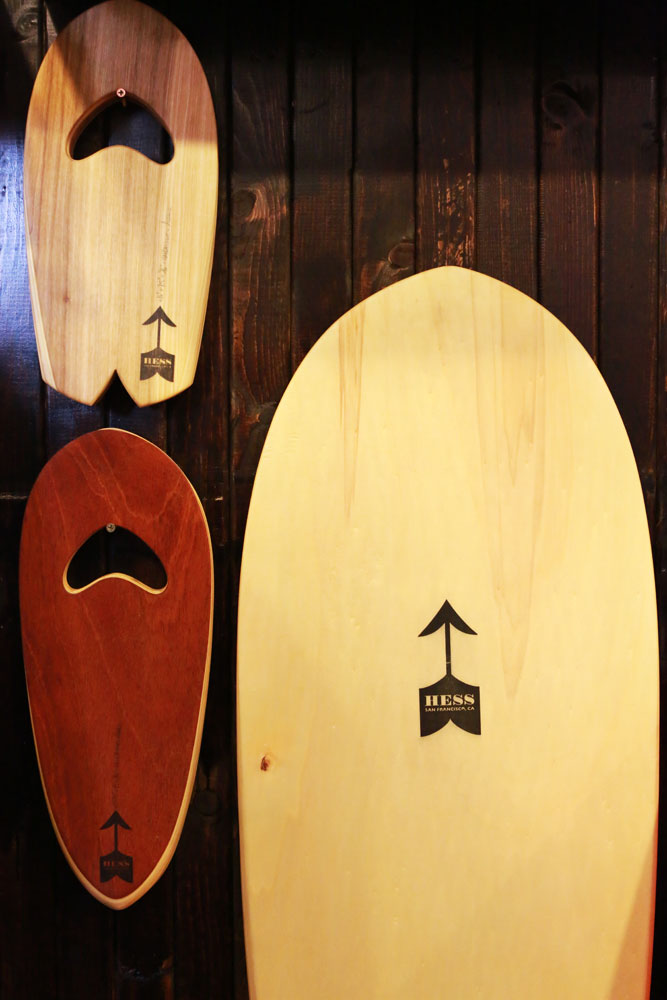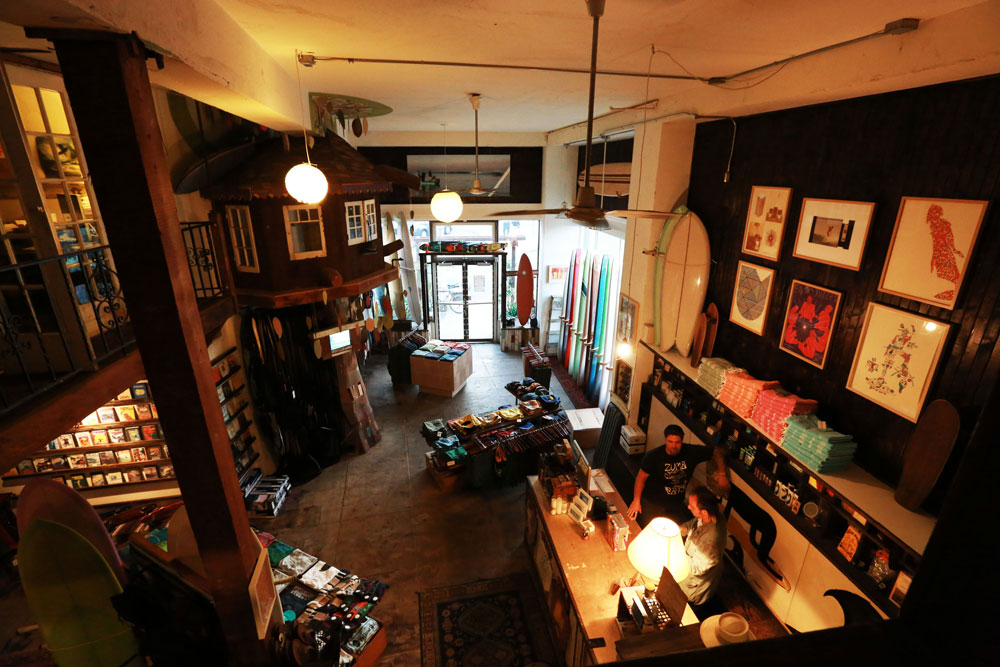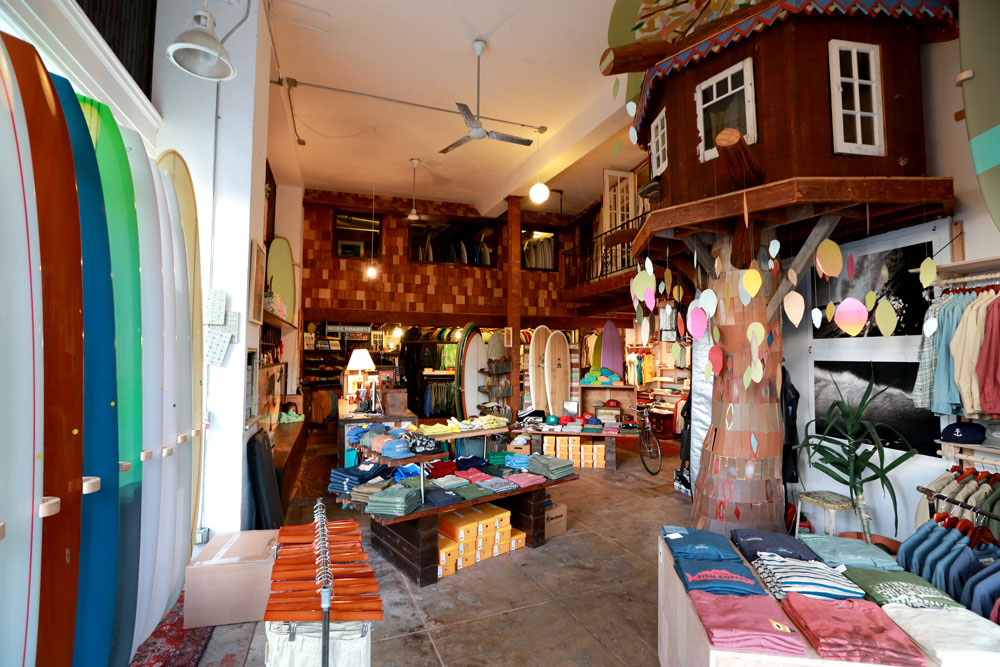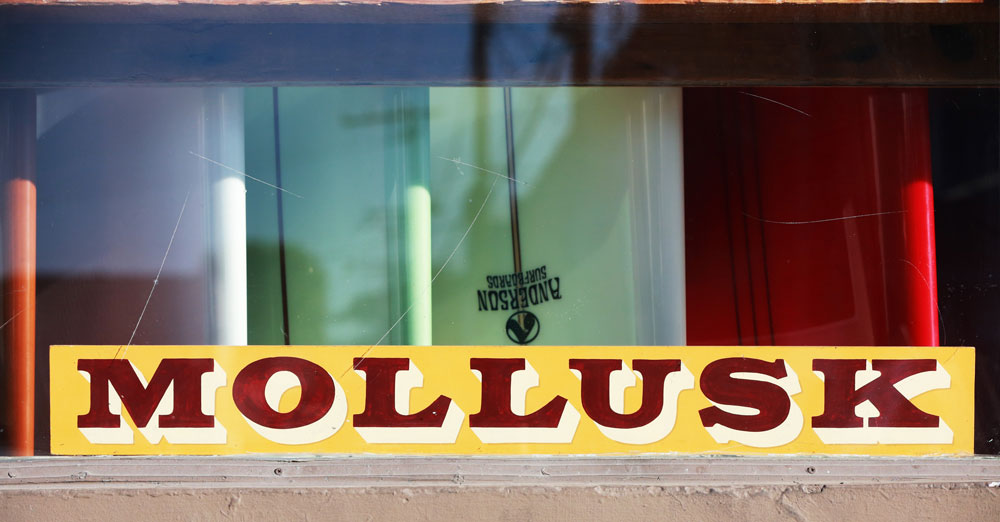 Mollusk
Venice, CA
Mollusk surf shop, in Venice Beach California, has become a hangout for many local surfers and artists living in the area. The store has become a cultural institution that integrates surfing, art, craft, music, film, and visual media. Not only does Mollusk sell hand crafted surfboards, art, books, and music, it hosts gallery openings and is a venue for many concerts.
What made you think you could open up a specific type of surf shop compared to all these other cookie cutter surf shops that were already around?
It kind of dates back to high school. I worked in a snowboard shop. I worked there all through high school and I was always thinking if this was my place what would I do with it? I had all these ideas. As the years went on, I always surfed, even after high school I was really interested in surfing. I loved going to surf shops for the cultural aspect of it. Sometimes, the shop owner was there and he told good stories… it seemed like a clubhouse. I was always really into that. This was during a time where the surf shop started evolving into a corporate dumping ground… which was such a bummer. Surf shops were getting more and more controlled by corporations, even if they weren't owned by them. You have to put up there stuff and it became more of a business model rather than the old surf shops which were like clubhouses. At the same time, I had a lot of outside interests like art and design and music. I thought to myself, why isn't there a place that selects the actual culture around surfing which is pretty creative?
So that was always your intention – bringing together artists, music, and all those things tied to the surfing world?
Yes.
Did that happen when you made the first shop in San Francisco? Did it blow up into a place where people gathered and hung out?
Yeah. It's funny because that was my intention. The thing is, there was such a hunger for it. As soon as I started telling people about it everybody jumped on board and started using the shop in that way. It really came together in a nice way and at the time it seemed really genuine…. We were all in this together. The business side of it was ridiculously bad, but the cultural side of it was ridiculously good.
Do you think over the years as you've had more experience you've bettered the business side of it as well as the cultural aspect?
Yeah, well you kind of have to. You have to figure out how to actually run a business. Starting out I had no clue as to what I was doing. I didn't know what a balance sheet was, I didn't know anything.
You have such a great location in Venice, in Winward circle. Did you see the location and know – ok, this is the place where I want to open up the shop?
I always loved that location because it used to be Benway Records back in the day. I spent a lot of time down there before we opened the shop. I would always go by Benway Records. It would have all these great bands that would play live and the people that owned it were cool. I was talking to some friends down there, and I was saying I want to open a store in Venice, and the place I want is where Benway Records is, and one of the guys I was talking to was like – that's crazy, Benway just closed and theres a "For Lease" sign on it right now. So it was the exact spot that I'd kind of envisioned us being in that would be perfect for us, and it was just in that moment it had gone up for lease. That was right before Venice got super crazy expensive. So I was still able to get a lease which was cool.
A lot of people I've been interviewing put a lot of emphasis on the location. Were you ever kind of freaked out when you initially opened the shop and thought, how am I going to sustain this place?
Yeah I mean… to tell you the truth if I had opened the shop for business and moneymaking reasons, there's no way we would've ever made it this far. Because the reasons for having it were lifestyle and more about the cultural aspect of it… that's the reason it's open. For something like this it has to be for that kind of reason. If you're getting into thinking this is how I'll make millions, then you're diluting yourself.
That's why I'm drawn to your shop. I can see that. There's something more there. You're not drawn to it for the money. Your passion for surf culture really comes across in the store. That's why I like it. Do you see the business growing in 5-10 years?
We started a clothing line and sell that at wholesale. We have our online business. So we have to keep moving forward to keep it interesting, but also for the business end of things you have to keep it evolving and moving forward. Just to keep your own interest as well. It's always going to grow, it has to.
Anything you want to say about it?
Not really. Just love being in Venice and having a clubhouse, it's kind of amazing. I love that place.
What was the catalyst that drove to open your own store?
For my 30th birthday I went to New Zealand for a couple months. I was by myself and I spent all this time, I filled up a couple notebooks with ideas. I'm turning 30, what am I going to do? I was working as an animator, and started working construction. When you start doing construction it brings things into perspective very clearly and I was like – I cannot do this. So I filled up these notebooks and thought, if I opened up this store and brought this idea back what would I do? So I had all this time by myself with no cell phone, no nothing, just thought about it for six to eight weeks. When I came back I just decided to do it.