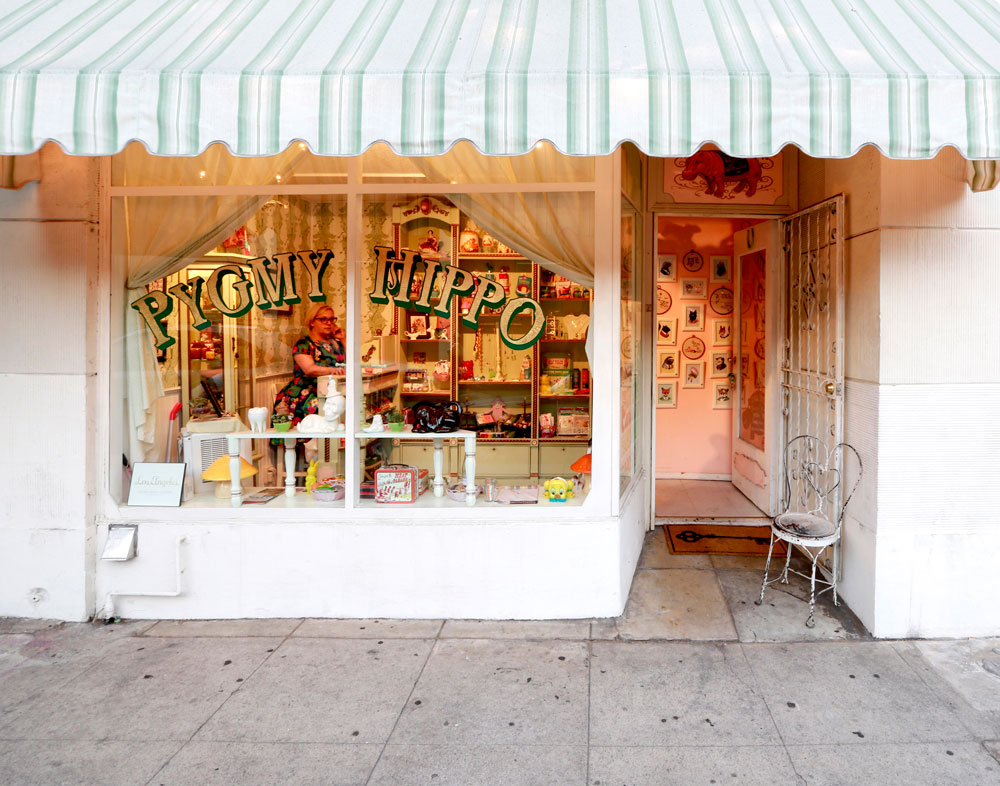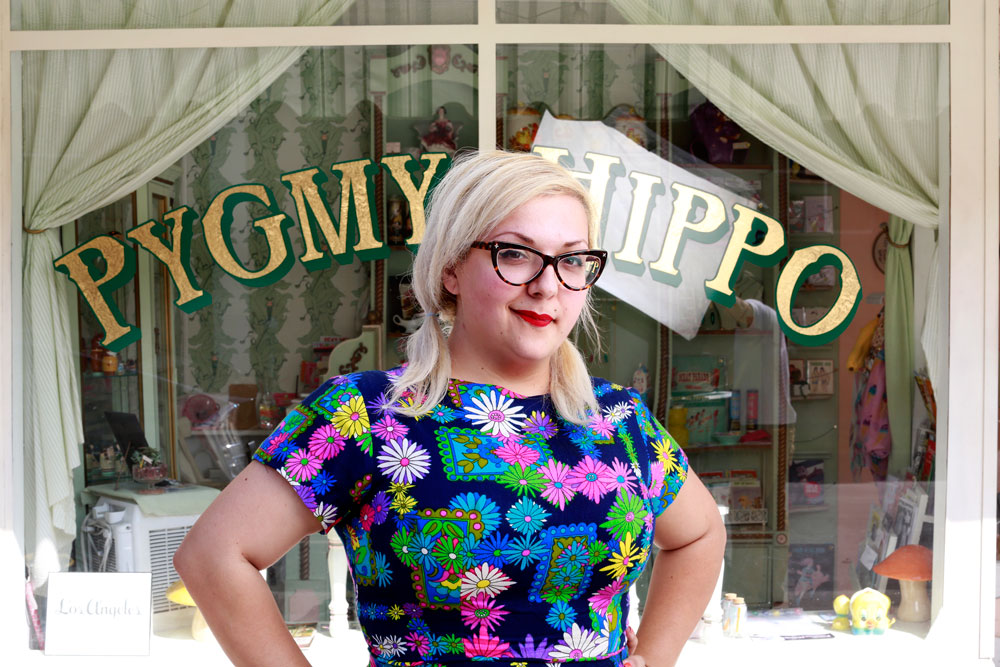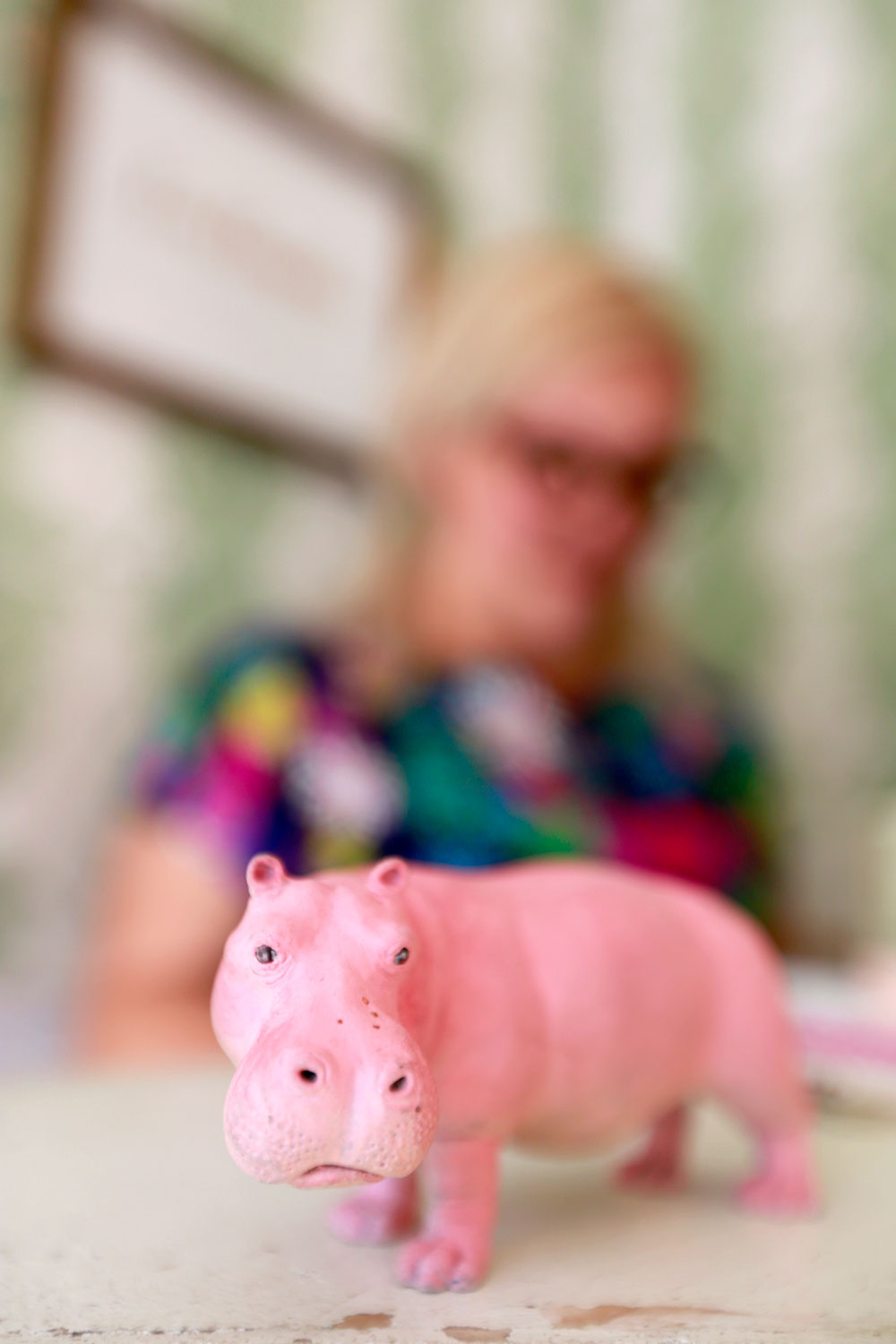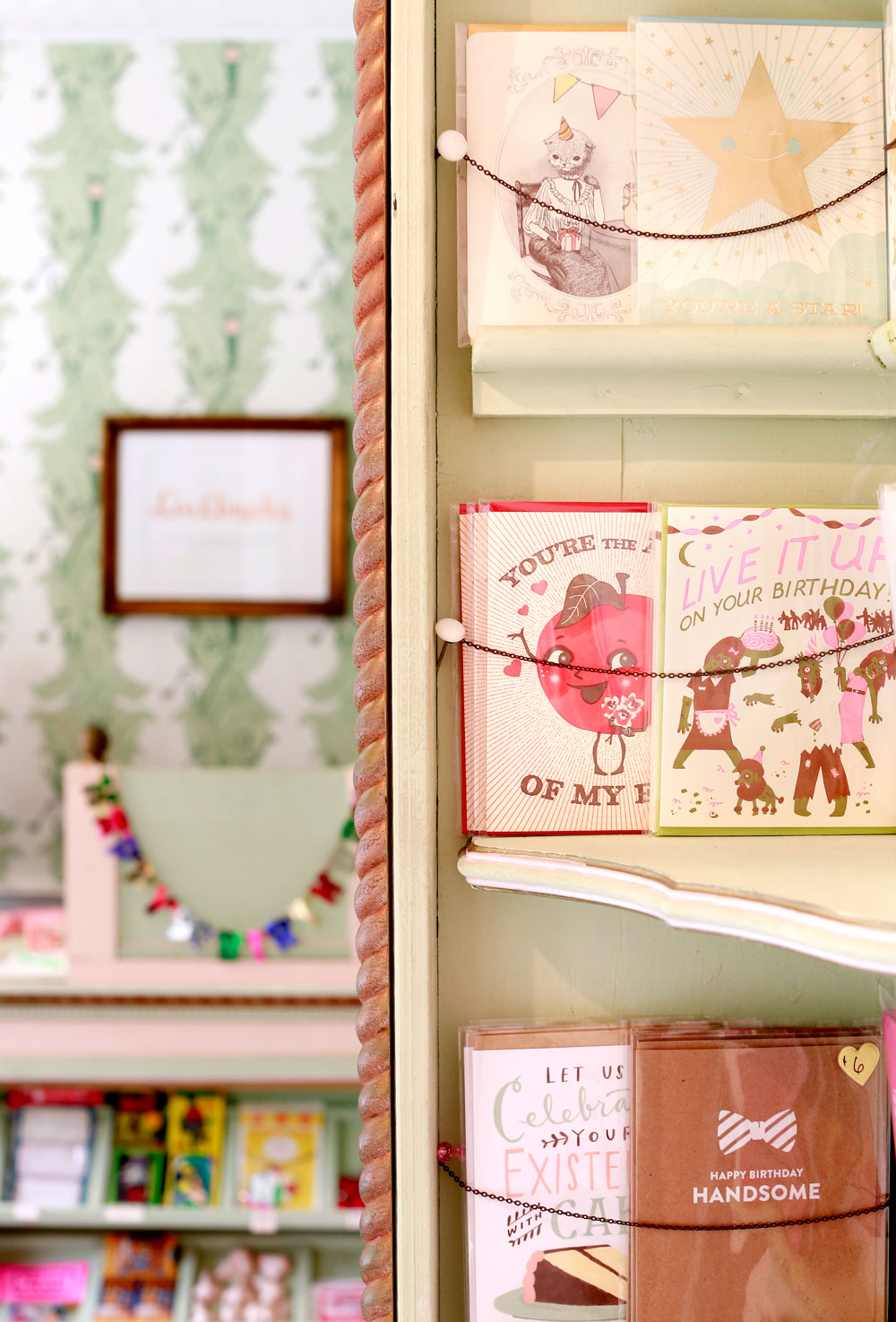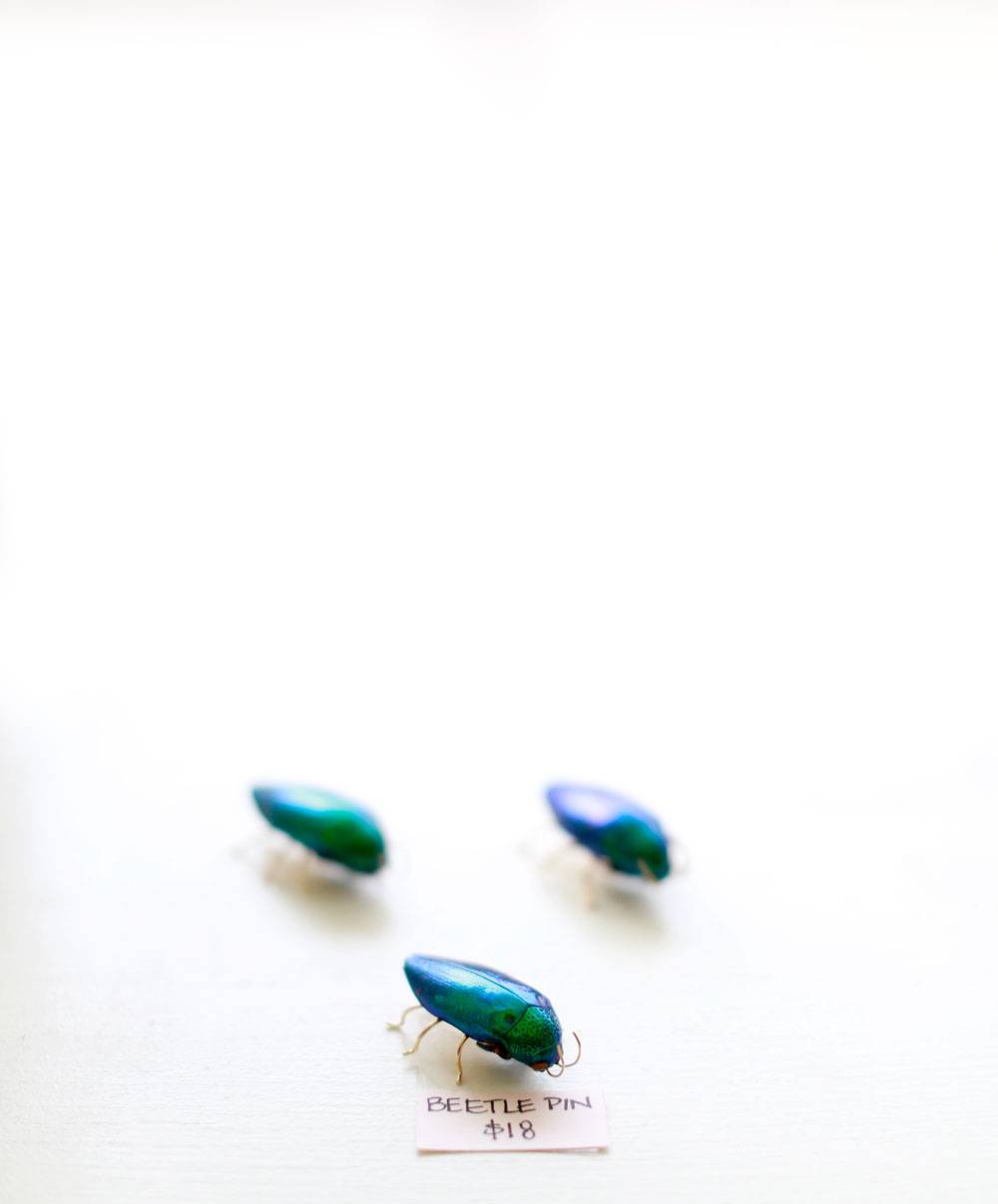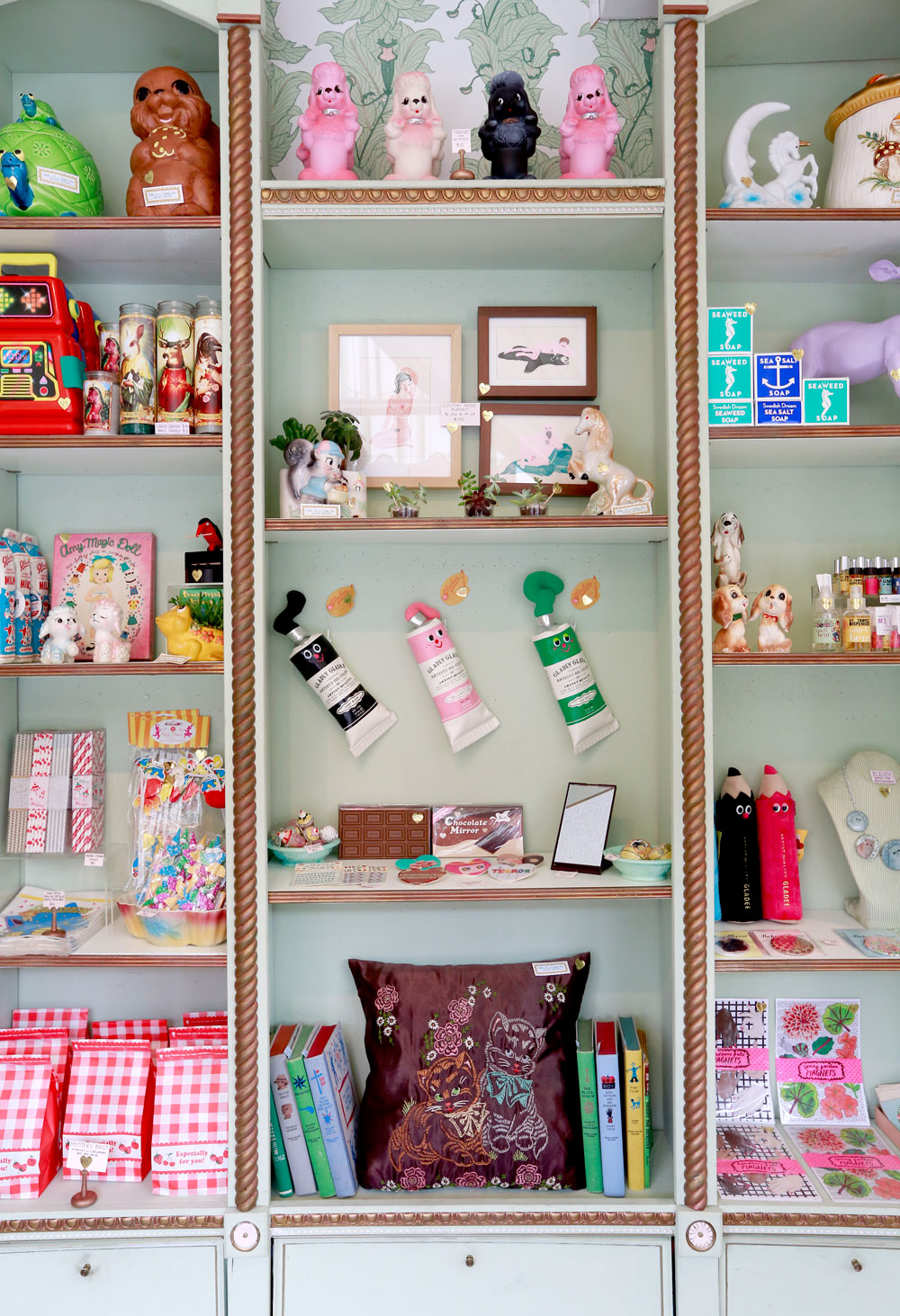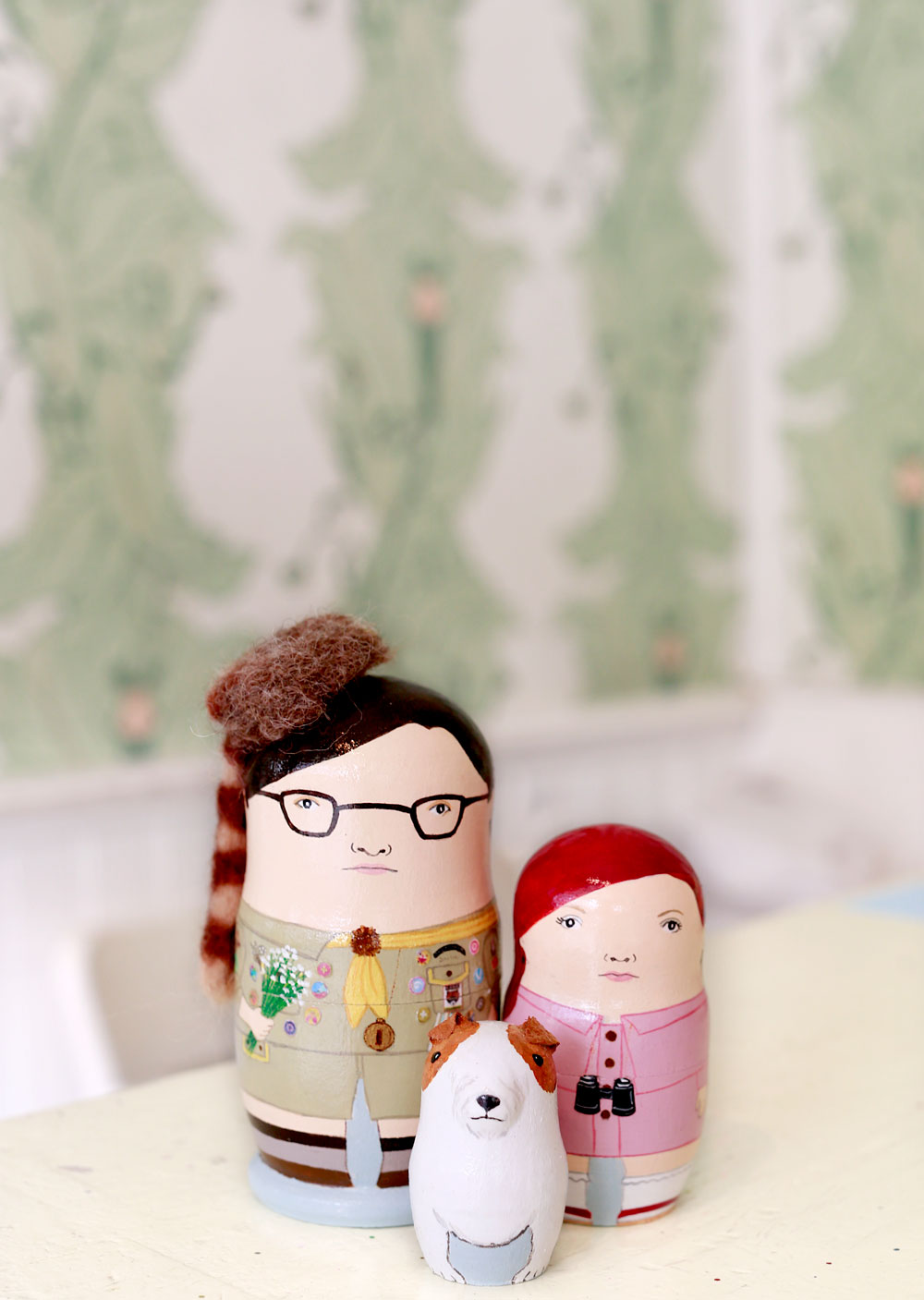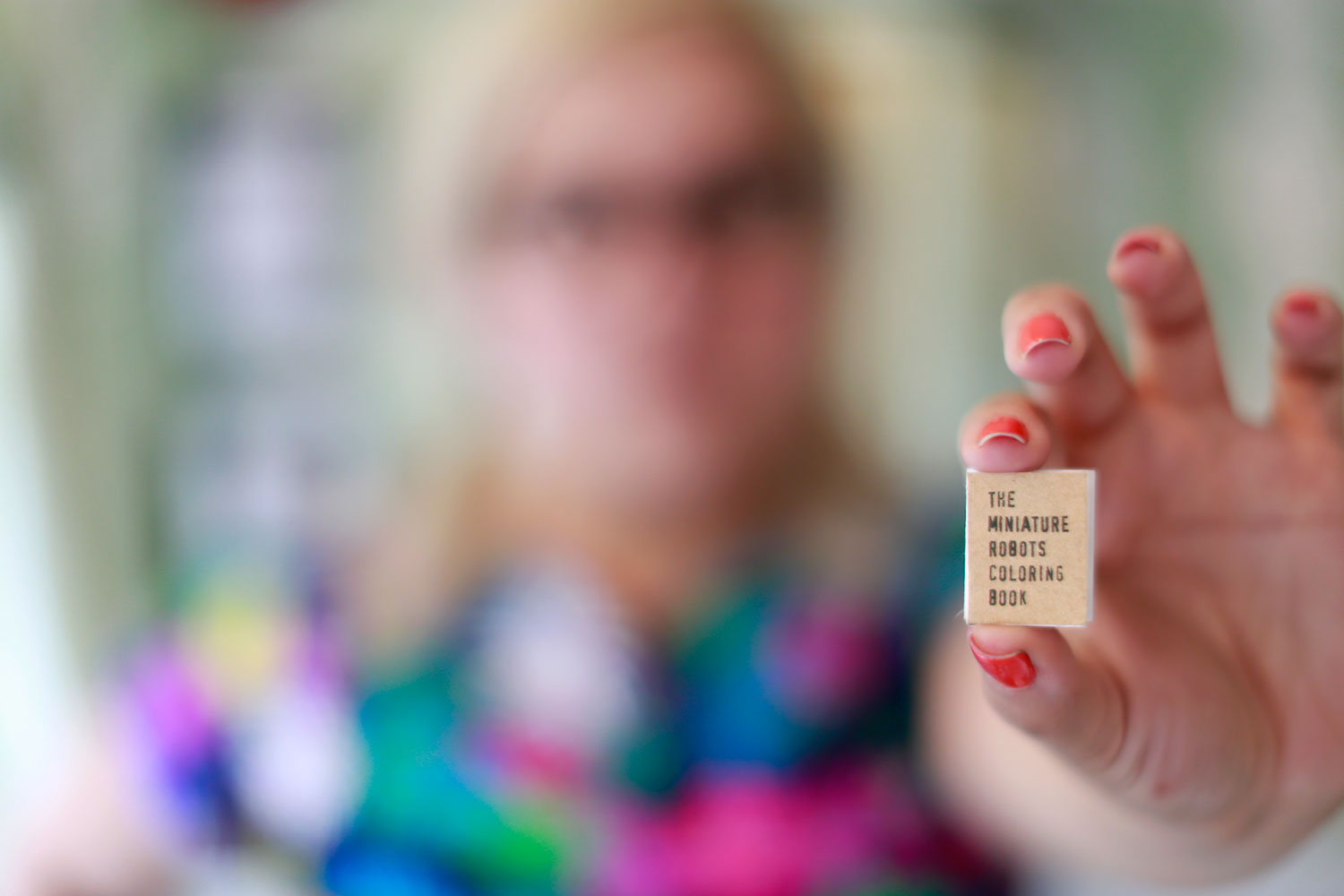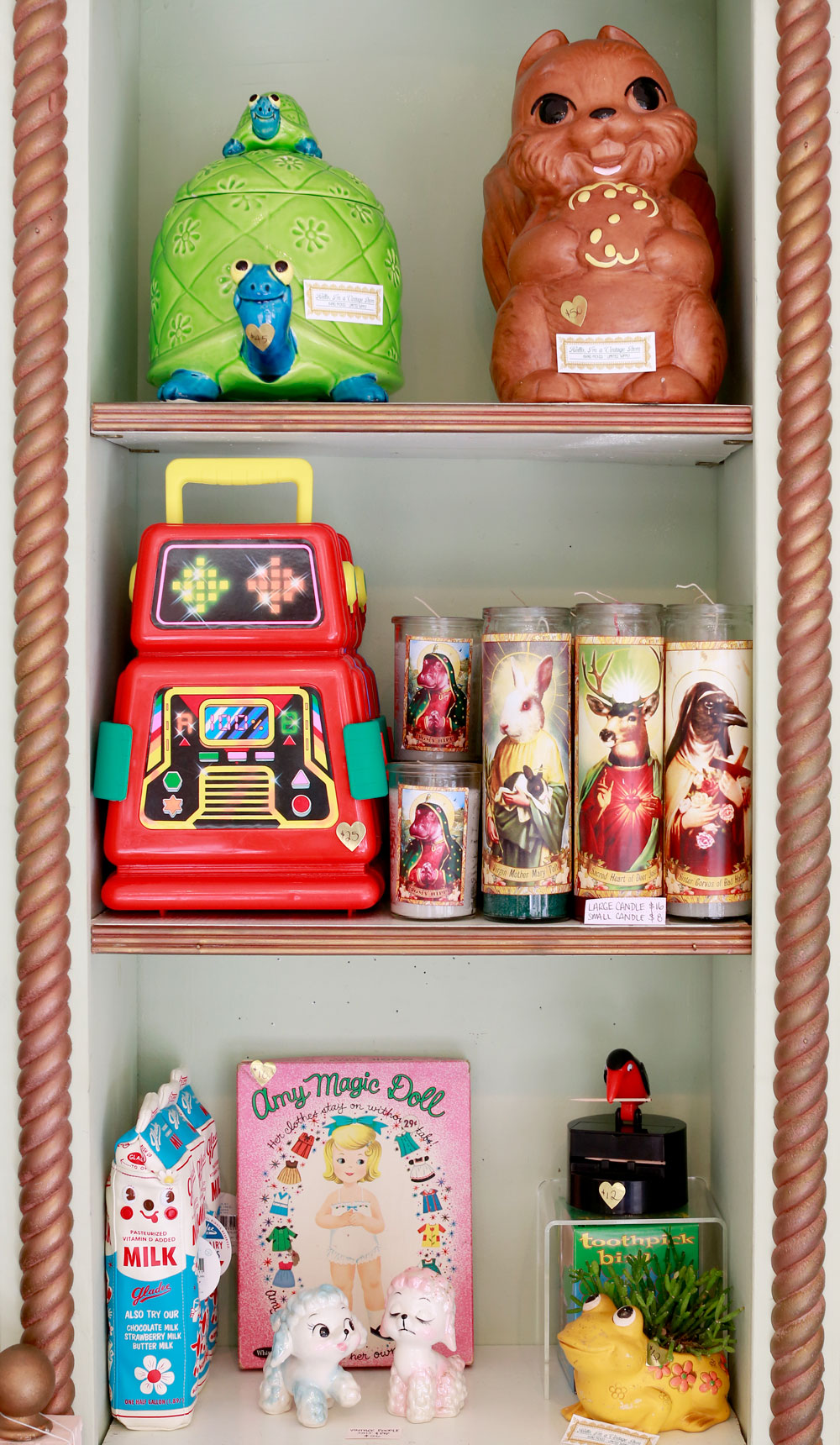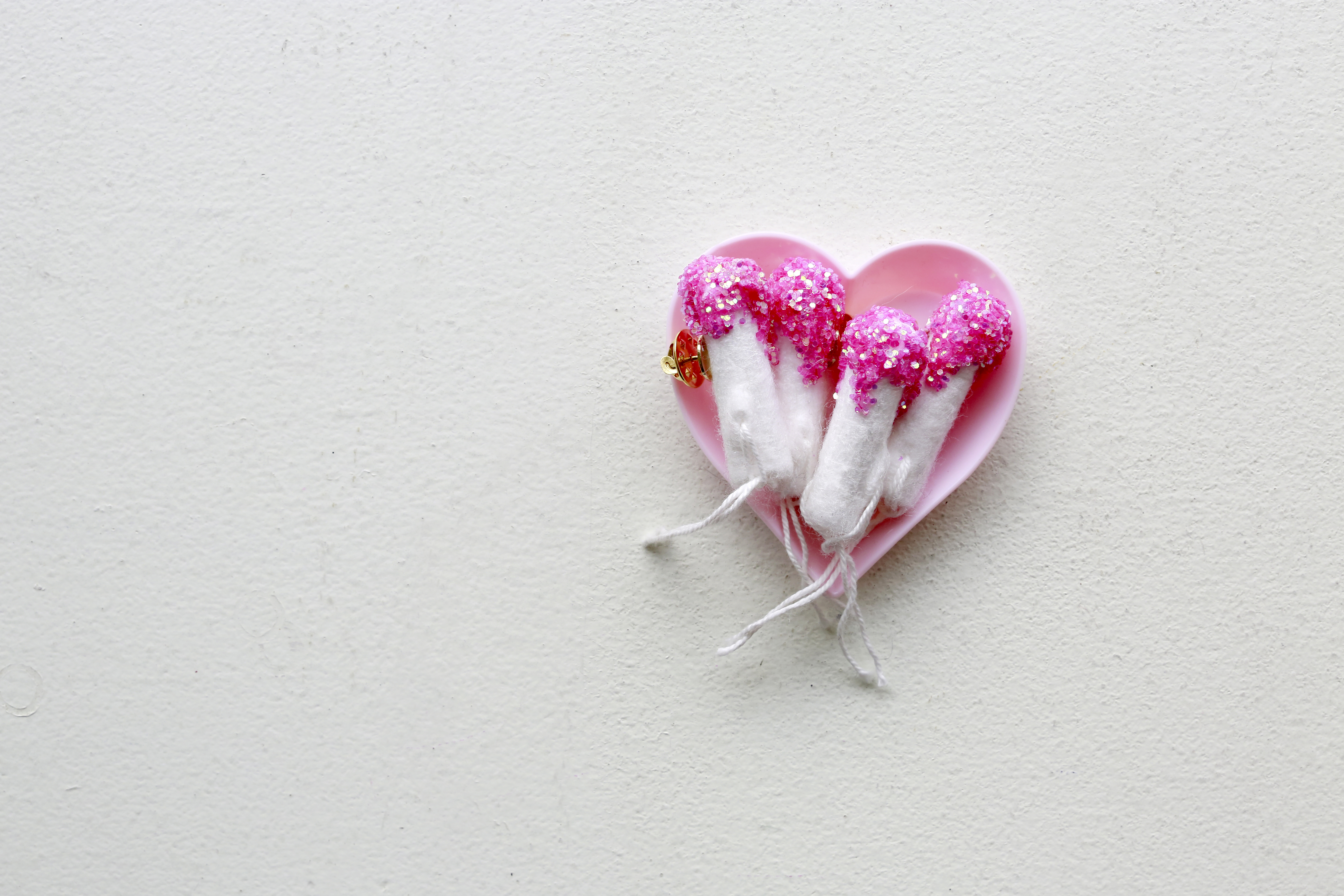 Pygmy Hippo
Los Angeles, CA
Emine's Pygmy Hippo Shoppe is one of the smallest stores in Los Angeles, located in the Fairfax district. Her store contains hand made jewelry, home goods, gift cards, books, zines and many other goods that are made from local artists around the Los Angeles area.
You have one of the smallest stores in Los Angeles, was that always your intention, to open one of the smallest stores?
‬‬‬
Emi: Not really, but I took a trip to Tokyo in 2009 that affected me tremendously. It's so busy and crowded there, a majority of business are built up rather then spread out and a lot of shops are very tiny, but it only took a couple days to get used to it. I literally spent the first two days in disbelief that many the boutiques I'd been dying to see in Tokyo were so small.
Are these boutiques stores are all over Japan?
Emi: Many places I went to in Tokyo were like that, yeah. And it comes from such a practical place that it makes you realize you don't necessarily need a huge space to operate a business.
You have such amazing stuff, how did you decide what you wanted to sell?
Emi: I'm a fan of all the artists who sell their works here, so deciding what to sell came from being a collector and a fan of different art, zines, etc. But before we really decided what to fill the space with, we really started with the idea of what it would look like.
Interesting, so the decor came first?
Emi: Yeah, pretty unconventional but it worked. I've lived in this neighborhood for five years and on my walk home one day I noticed this tiny closet of a store front which I'd never really payed attention to since the curtains were always drawn, but one day they were open I couldn't believe my eyes! I immediately went home and told Nathan (my partner in crime), "I found this space, it looks like the waiting room at a dentists office, but if we could make it look like a combination of Main Street Disney and Willy Wonkas house, it would be awesome!"
I can see that.
Emi: Nathan is truly a creative genius, and he was like, "Okay, give me some ideas and drawings and lets do this". We drew a couple things out and went over the logistics and costs and that was that. I called the number on the window, the space was ours, and we immediately started building all the fixtures.
So, it's one hundred square feet right?
Emi: Just under one hundred square feet, yeah.
Wow. Have you googled who has the smallest store in Los Angeles?
Emi: I haven't actually! I'll have to do that later...
How'd you get the name?
Emi: I love pygmy hippos, not only because they are incredible animals, but also because my English Bulldog Lucy Pearl reminds me of one; she's grumpy, nocturnal and keeps to herself...but she's so cute. People are sometimes disappointed that we don't sell a ton of hippo merchandise but it's not really about that, you know? It's more about the idea that good things come in small packages.
So pygmy hippos are real animals?
Emi: Yes, you have to look them up immediately! They're nocturnal animals and are sadly endangered, but there is one at the San Diego Zoo right now that you should go visit. They originally come from West Africa and are a completely different species from full sized hippos. Pygmy hippopotamus only grow to be about 4 feet tall and when they are babies, they're the most magical little creatures.
On a related side note, if anyone wants more info about actual pygmy hippos and their habitat, they can go to http://pygmyhippofoundation.org. We're not at all affiliated with them, but they are a great conservation foundation.
Have people been supportive of the store?
Emi: Totally, it's like a dream come true. The store wouldn't exist with out the support and word of mouth from all of our friends, customers and neighbors. It's really exciting that people are going out of their way to support small business and independent artists. The goal of the shop has always been to get items out there that you wouldn't really find at the mall, and by doing this, I get to support the works of so many creative and talent people, so the whole experience has been awesome and support has been overwhelming.
All these people do make really unique items, like this line of perfume called Smell Bent for example...
Emi: That's Brents' line! I met him as a customer and he's since become one of my dearest friends. He mentioned that he had a perfume line when he first came in and I thought the name was so smart, so once I finally got around to looking him up I was blown away by what I found! Brent to me is the the ideal Pygmy Hippo Shoppe vendor: he is completely self-taught and master of his craft, he only puts out really quality work, he comes up with all the artwork for every label, and at this point, he hand blends every single scent himself.
And the scents are pretty unique…
Emi: Totally, his originality what I love most! Disco Nap for is my favorite when I want something soft and sweet and the label features a roller skate wearing a sleep mask. But in contrast, I also love Hungry, Hungry, Hippies which is a mix of patchouli, cassia and pot brownies, and it smells incredible.
Yeah, at first I thought it was a joke and that they'd all smell really bad.
I feel like the whole store could been seen like that, where at first glance you have to wonder if it's a movie set or something. But yes, Pygmy Hippo Shoppe is real and so is Smell Bent! Actually, Brent is working on a Pygmy Hippo scent for the store right now!
Where do you see your store in five years?
Emi: I wouldn't be opposed to expanding, but keeping the store the same size. So by expanding, I mean that I'd use the extra space in the back as an art studio and for workshops and classes. I always say that my home is Pygmy Hippo's second location, since my living room is where I pack orders, the dining room is where I keep back stock, and the kitchen is where I experiment with creating products.
What kind of stuff do you make?
Emi: We make a lot of the jewelry, candles and accessories in-house, and I'm working on doing a line of pillows and stationary that I hope to have out in the new year. It's a lot of additional work but when an idea pops in my head and I can't get rid of it, I know have to do it.
Do you have a space in mind for expansion?
Emi: No, but I like having the shop in this neighborhood, not only because I live here but because I don't think there aren't enough places around here like this.
Although it wasn't always the case, because growing up here and going to Melrose in the '90's was awesome. Places like Rockahula, Retail Slut, and Bleecker Bob's were a huge influence on me. Oh man, Bleeker Bobs was the coolest! It was all records and posters downstairs and then the upstairs from the shop was all vintage clothing; I read in April that the OG Bleeker Bobs in NY just closed, so so sad. I think rent on Melrose got too expensive for all of these niche stores and it's such a bummer because it really was a magical time.
I obviously have enormous respect for small business owners. I'm always like, whoa man, this person's on another level… they have a store! They've taken this huge leap and all of them kind of did it on their own.
Emi: Yea for the record, I still say the same thing anytime someone I know opens a store or starts a new venture. It is an insane amount of work and if you're going to do it all by yourself like I did, you're going to sacrifice a lot. But I mean, boo hoo, right? It's my passion and it's my obsession right now. You're married to your work for at least the first year, it's 100% your focus and I think that's rad.
Was that going through your mind before you started? Can I do this?
Emi: For sure, but even though it might seem impractical, I came at it from a very practical standpoint. I figured out how much money I would need to build everything and stock the store, so once I narrowed it all down I new it would be a really insane ride but I was up for the challenge. Also, I think that there's a huge difference between being a businessperson and being a creative person; I'll always be a creative first and then I'll put my business hat on and crunch numbers.
That's great that you're able to do that.
Emi: Having said that, it's been nearly three years since I've opened shop and it's beyond what I expected. I just thought, I have to try this. I'll bust my ass and if it works, it'll be awesome... if it doesn't work, a part of me would be sad but in the end I'd have to be ok with it, knowing that I'd tried my hardest to make it happen. In the first month I wondered if I'd over-fantisized about the whole thing, like, will this work? Will it be as cool and fun as I imagine? And yeah, it turns out that it's everything I imagined and more.