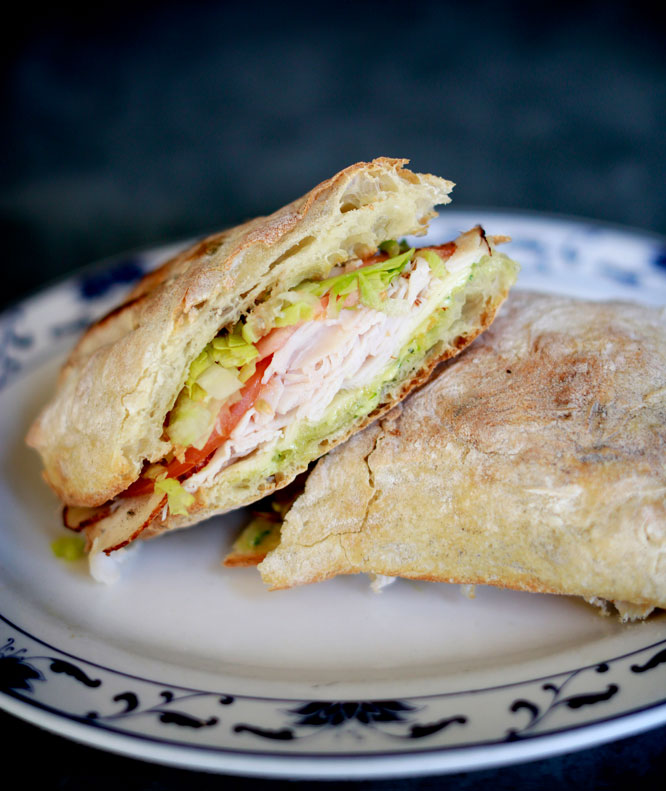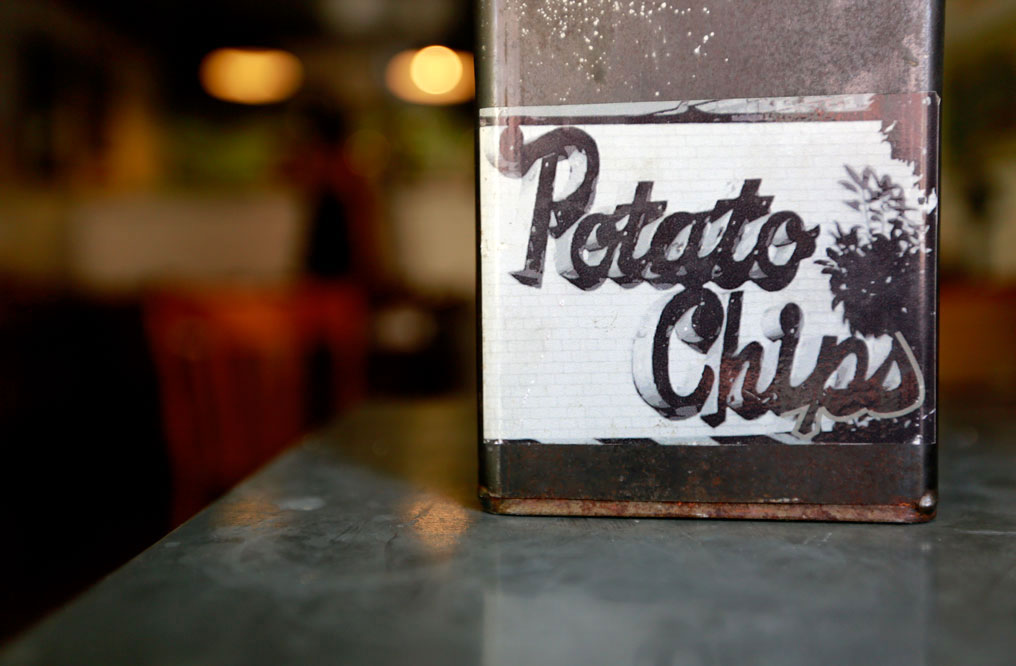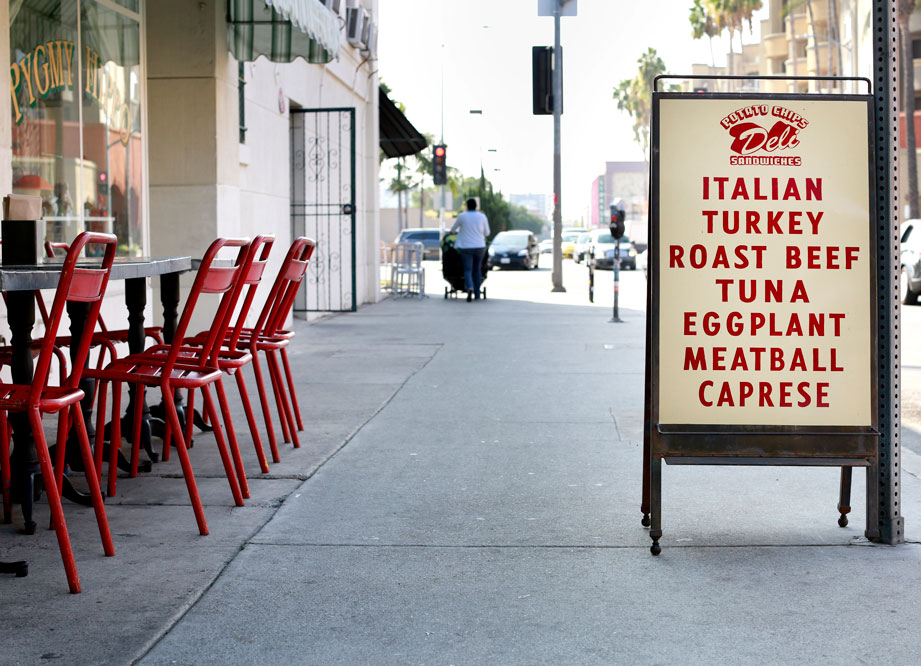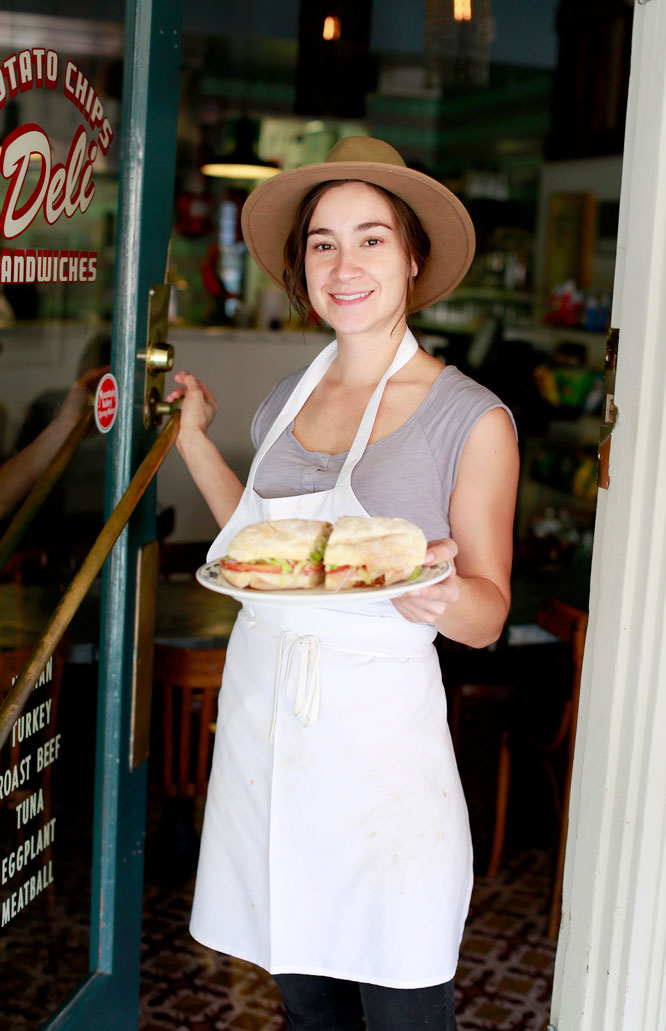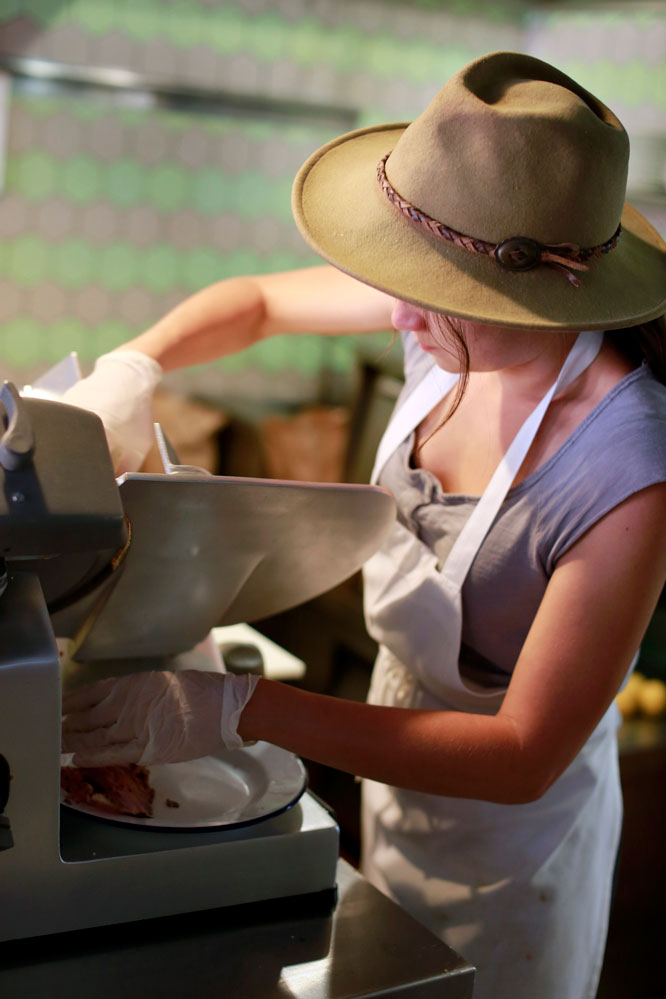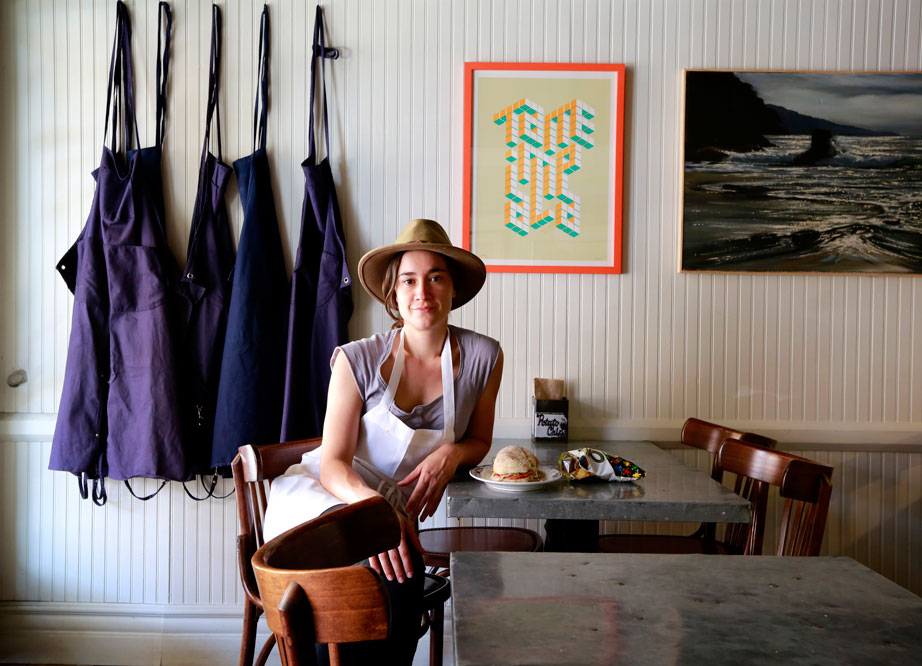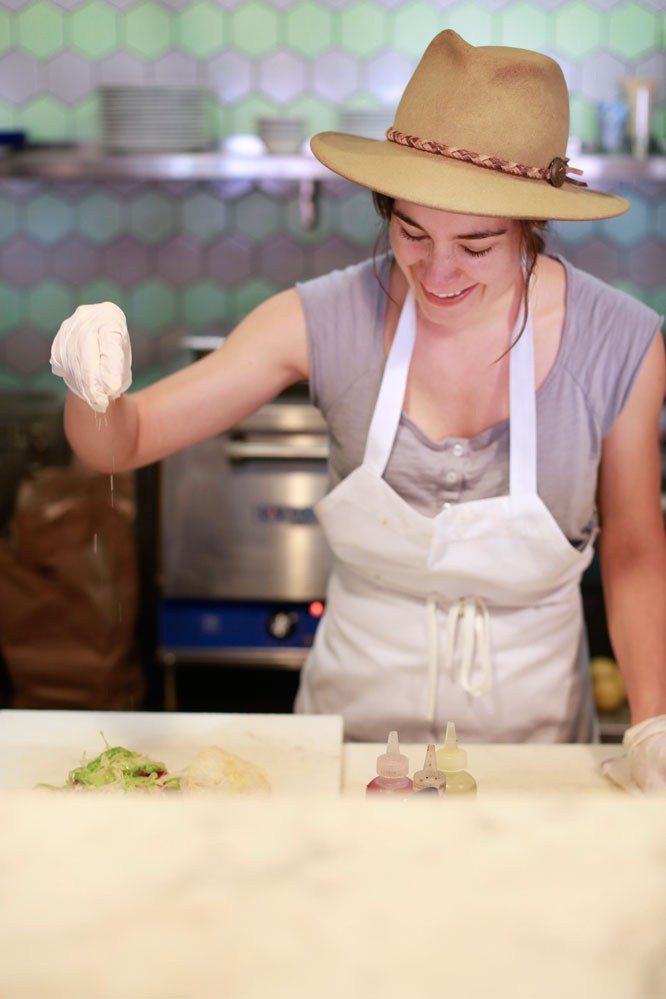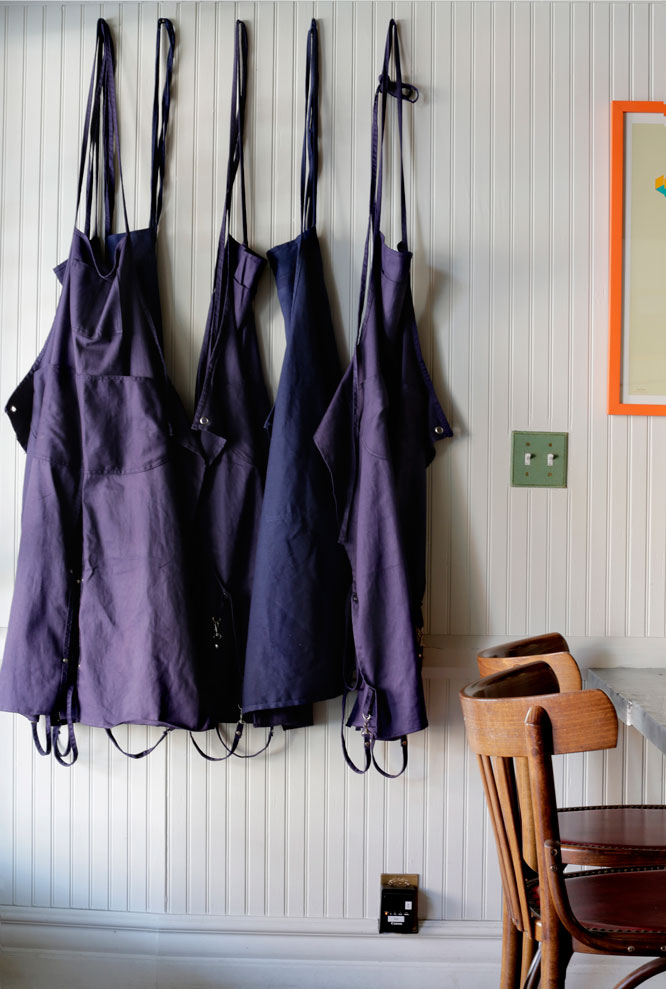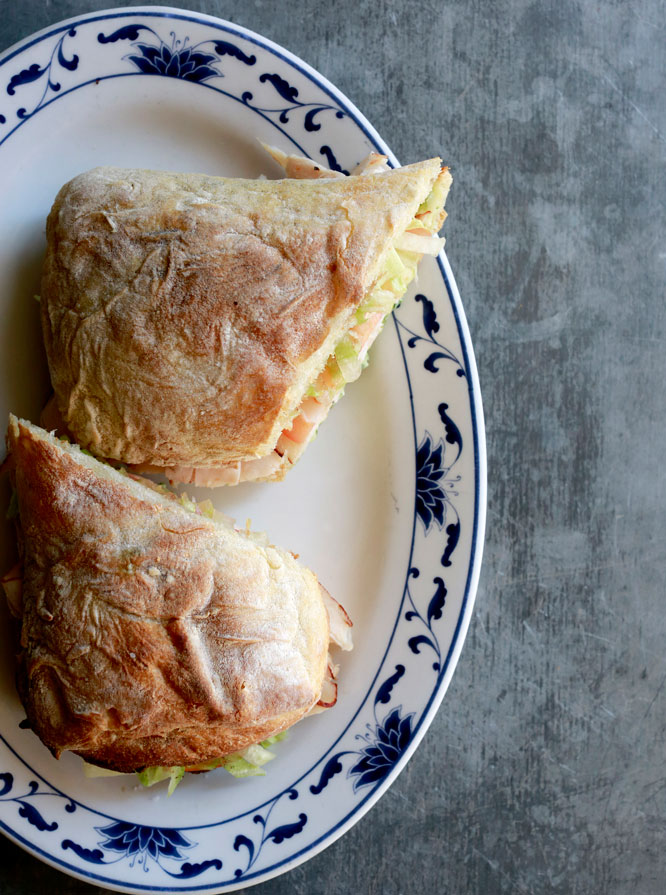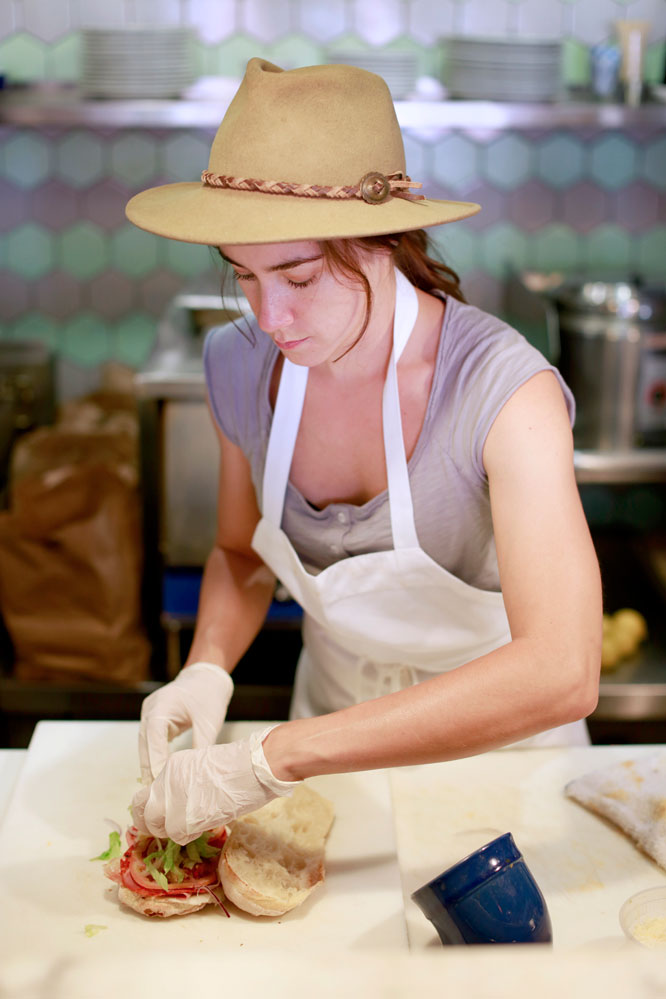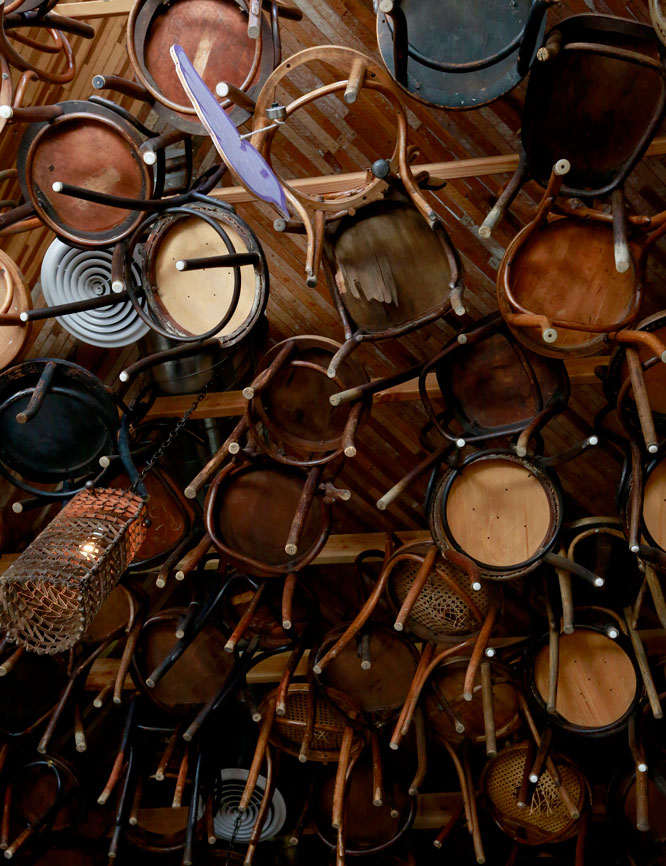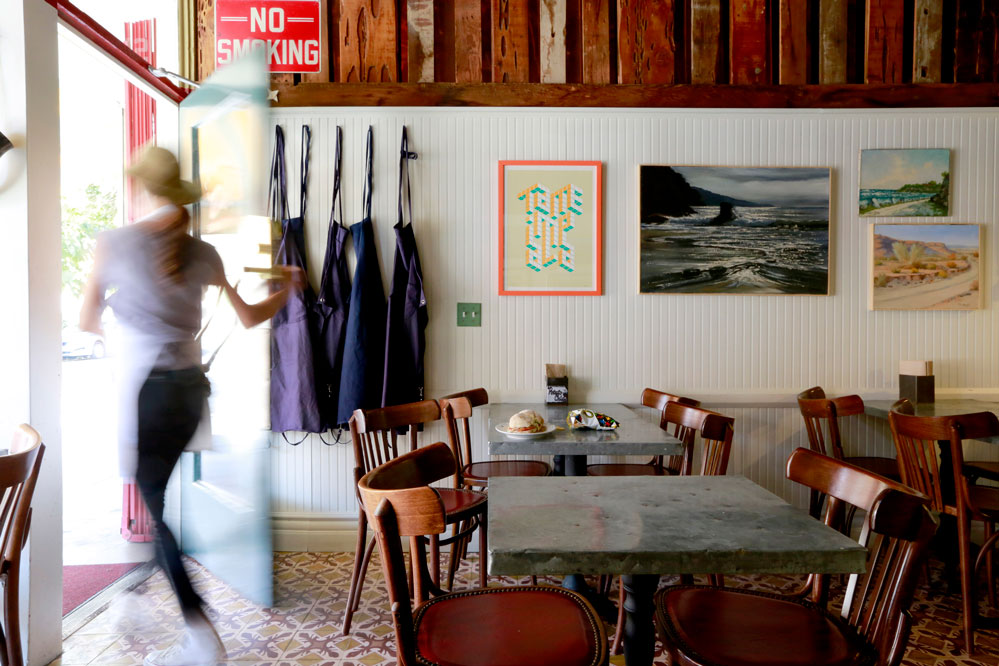 Potato Chips
Los Angeles, CA
Potato Chips is a small but quaint neighborhood sandwich shop nestled in the Beverly Fairfax district of Los Angeles. I interviewed and shot Amanda Kobritz, the head chef a while ago. Although Amanda is currently not working at Potato Chips, I will keep you posted as to where she will be next.
You kind of stumbled into this role…
Amanda: Yeah, I didn't apply for it.
How did the job come about?
Amanda: It's my cousin Steven Arroyo's place—he is a restaurateur—he owns the place around the corner, Taqueria Esquela, great tacos. I had him over for dinner once and I guess that was enough for him to consider me. He knew I could cook, but he had called me to help him with a private dinner party that he was doing. I was unavailable and I knew my ex-roommate who was subleasing my place could cook, and that she'd be fine. They ended up hitting it off and he pulled us into his office, and was like, the two of you should run Potato Chips. It was literally out of the blue. I had tried to start my own business selling vintage clothes on Etsy—which was a disaster. That was a godsend in a way. I had tried to go to cooking school. That didn't work out.
So Steven, really liked the food that you had made. But it wasn't sandwiches?
Amanda: Right. No, I made roast chicken and salad. I mean, I cook well and season well but I don't have the formal training.
How many sandwiches do you guys have, seven?
Amanda: Yeah, seven.
I love your bread. You won't tell me where you get it?
Amanda: I will not say where I get the bread.
What do you think makes the perfect sandwich?
Amanda: It starts with the bread.
What does it end with?
Amanda: It ends with the perfect slices of meat.
Can you elaborate? For instance, what makes your turkey sandwich special?
Amanda: We have unique bread. And then we use the best quality meats. Nothing has additives. Nothing has hormones. Everything is in its purest form.
I would say it's our aioli that makes the turkey. For the Italian, it's the fact that we slice our meats at a certain thickness. It's just the proper combination for an Italian. The roast beef is done in-house. It's just a great marinade and we take it out at the right temperature. All our sauces are made in-house and I think that's key. Everything is sliced fresh the morning of. Our roast beef is sliced to order. So freshness is key.
You have a sandwich shop in this neighborhood where you see so many familiar faces, which is so great. What do you love about that?
Amanda: I live nine/ten miles away, and I feel like I live here. I do live here. I like how half of our customers are regulars, maybe even more. I like that I know most of the people by name. They know me by name. It's like "where everyone knows your name." It's the Cheers bar. It's nice that people are satisfied and it's a neighborhood vibe. It's just so friendly. It feels nice to talk to people and be away from a desk, to serve customers and see how satisfied they are, it's very rewarding.
Where do you see your shop or yourself in five years?
Amanda: When I can say that it's not a challenge anymore, then I'll move on and do my own thing. I don't know… I'm definitely learning so much. I'm not putting a time limit on it but in five years I can definitely see myself having my own place. I assume I'll be ready by then. Running a kitchen and managing a staff and cooking things so that everything's ready by the time we open at eleven is really difficult. It's really challenging. It's something I've never done before.
What time do you wake up in the morning?
Amanda: Seven. We start working at nine. I'm usually here fifteen minutes to a half an hour early. It's so nice. My favorite thing is coming in here and going into the Escuela kitchen. It's completely quiet and pitch black and there's something so peaceful about eating my breakfast or drinking my coffee and just staring into space.
The thing I love about this place is the familiarity, the neighborhood feel. So hopefully if you guys do franchise it's not going to lose that… it's not going to lose the quality.
Amanda: Yeah, there's something great about the uniqueness of Potato Chips. It's the neighborhood spot. It's never going to be exactly the same somewhere else. If it does become a franchise… unfortunately, that's what happens.
What about yourself? Do you ever want to open up your shop?
Amanda: Yeah, I have thoughts about that. This is an internship and this is what I could see myself doing, absolutely… Open up my own shop, probably on the eastside. Maybe not sandwiches… I've perfected some of the dishes here, like the meatballs.
I'm not a big meatball person but I really like the meatball sandwich here.
Amanda: Yup. And it's with beef. No pork.
I love your cookies. Where do you get the recipe for your cookies?
Amanda: My mother.
What makes them so special?
Amanda: They were my childhood favorite cookies, along with my sister. We would beg my mom to make them all the time. And then when the shop opened we were lacking a dessert. And so my mom gave me permission to do the cookies here. And I think a lot of people really enjoy them. They sell out almost every day.